Hilton Chatterbox Chicken Rice
(Pre-Opening Private Invitation 12 March 2022)
We were so excited to be invited to a special preview before the restaurant is open to the public on 14 March 2022.
Closed since October 2021 for a revamp costing almost $4 million, the restaurant now has an elegant, contemporary ambience that makes us want to go back again and again.
Chatterbox is a Singapore icon, and we – and our parents – had been feasting on their chicken rice and other specialties since their opening in 1971 at the Mandarin Hotel Orchard.
The new Chatterbox menu focuses on what it does best: popular Singaporean cuisine. 
Be awed by the professional, knowledgeable and attentive staff.
The legendary Chatterbox Chicken Rice. The chickens are specially reared for plumper, juicer and more flavourful meat. The chicken is steamed till tender, served boneless with a side of fragrant jasmine rice, chicken soup, and homemade sauces (ginger, chilli and dark sauce).
For the past 30 years, Chatterbox at the Mandarin Hotel Orchard Road has been getting their chickens from the same Malaysian farm supplier.
The difference between good and superb chicken rice is in their rice and condiments. 
The rice at Chatterbox is cooked using quality fragrant jasmine rice, together with chicken stock until it is perfectly ready to be served at tables of eager diners like us. The rice tastes so delish that we sometimes forgot that we needed to eat the rice together with the chicken!
HUGE tiger prawns. Visually pleasing, fresh crustaceans that tasted as exceptional as they looked. The lemon butter sauce was a refreshing change from the typical salted egg sauce that can be found in average zi char stalls. We were tempted to order 2 or 3 more portions of these Lemon Butter Prawns, but we reminded ourselves that we had already ordered many items from their menu. We will definitely treat ourselves to at least 1 portion of this for each of us at our next visit.
Tender, juicy, succulent chicken and beef satay. Is it even possible for charcoal-grilled meat to be this moist? Yes. Possible at the Hilton Chatterbox. We also loved the generous portion of pineapple with the peanut sauce.
Trailblazing coconut drink that balanced the savory food with Singapore's favourite refreshing tropical thirst quencher. Hidden within the luscious blended coconut were tender coconut flakes. And red beans. The cups that they were served in are so retro and authentically Singaporean.
Brought brought back fond and welcome memories of our youth. We happily chatted about our own personal experiences that we used to have with these types of mugs when we were younger.
We are sure that business travelers and tourists visiting Chatterbox would definitely appreciate how local flavours and aspects of our culture and heritage are so cleverly weaved into the presentations of the food and drinks. If they had bowls or plates featuring roosters or chickens, that would surely complement the Singapore cuisine narrative.
Theses Aubergine Fries made potato french fries feel so boring. The batter is crunchy, and very addictive. Planning on spending a few hours chatting with a long-lost friend or your bestie, at Chatterbox? Order a few plates of this, and down the aubergine fries with the distinctive cool blended coconut drink. Nestle comfortably in the sofas, and create many new happy memories at Chatterbox.
The meat was very tender yet not mushy. These Coffee Pork Ribs were tossed in marinade that is difficult to find elsewhere. We are long-time fans of coffee pork ribs, and most times, it is disappointing to bite into ribs that were coated in sauces made with cheap instant coffee powder. The sauce used for these ribs is definitely ooh-la-la.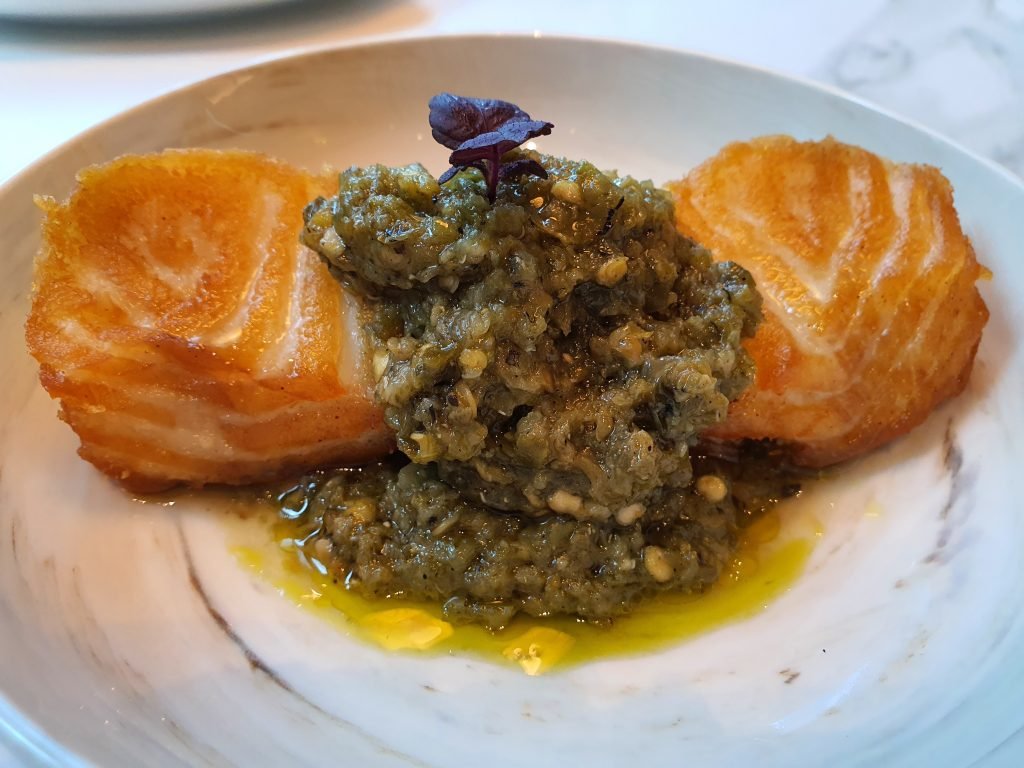 A good meal is incomplete without fish. The Sea Perch with Burnt Green Chilli was an indulgence. Fish that is silky smooth on the inside with a satisfying crisp exterior.
Chinese Rojak at a five-star hotel? Of course. This was one yummy medley of yu tiao, fruit, spinach, prawn paste, tamarind sauce, topped with crunchy peanuts.
Very special Pandan Chiffon Cake, served with coconut crumble and home-made soy pandan gelato. Vegans would love this dessert.
Ribbons of chocolate within coconut ice cream, in this Signature Coconut Ice Cream. Topped with walnuts, a slice of chocolate, and tropical fruit for that festive I'm-chilling-by-the-pool holiday feel. 
Interim Chatterbox menu. A fuller Chatterbox menu is coming up soon. We are looking forward to more local food and desserts, expertly prepared by master chefs at Chatterbox.
Hilton Chatterbox, newly-refurbished.
Hilton Chatterbox, newly-refurbished.
Hilton Chatterbox, newly-refurbished.
Hilton Chatterbox, newly-refurbished.
Hilton Chatterbox, newly-refurbished.
Hilton Chatterbox, newly-refurbished.
Hilton Chatterbox, newly-refurbished.
Hilton Chatterbox, newly-refurbished.
Hilton Chatterbox, newly-refurbished.
Chatterbox
Hilton Singapore Orchard
| | |
| --- | --- |
| Reserve a table at Chatterbox using Chope  | |
| Chatterbox Hilton Singapore Orchard Address | 333 Orchard Road, 05-03 Hilton, Singapore 238867 |
| Chatterbox Hilton Singapore Orchard Opening Hours | Monday – Sunday: 11am – 9pm |
| Chatterbox Hilton Singapore Orchard Contact Details | +65 6831 6291 |
| Chatterbox Hilton Singapore Orchard Social Media | |
* information is accurate at the time of writing, on 12 March 2022
We hope you enjoyed our article about Hilton Chatterbox Chicken Rice. Please do follow us on our social media for the latest updates of our blogs/articles!
Hilton Chatterbox Chicken Rice The Best Singapore
Best Things To Do This Weekend In SingaporeWe separated the sections into different areas of Singapore so be sure to